---
THE LIGHT CHANGES
---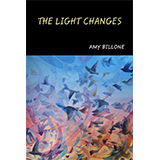 IN PRAISE OF THE LIGHT CHANGES
"Billone's debut poetry collection … begs for comparison to Sylvia Plath, a comparison in which Billone more than holds her own."
~ Kirkus Reviews (Starred Review); Best Books of 2013
"The Light Changes is a great volume of free verse, sometimes devastating and sometimes enlightening, being very straightforward and honest in the way it talks about suicide, but also reminding us that it's (hopefully) better to live; and doing it all in an eloquent, beautifully crafted voice that would make this book stand out in and of itself."
~ Charles Baker, IndieReader.com; Winner of the IndieReader Discovery Award (Poetry) 2014
"I read The Light Changes three times, and each time it became a deeper work."
~Glynn Young, tweetspeakpoetry.com
"It is refreshing to read work that is thoughtful and painstakingly crafted. It is relieving to open a book of poems that do not dally on the minutia but rather grab the reader and make sure that she knows this book needed to happen. It is precisely that kind of urgency that will leave readers feeling grateful that Billone has given them a small window into her journey."
~ Giovanna Marcus, Portland Book Review (5 Stars)
"These poems deliver a strong impact. […] Some of them defy a total understanding, and that is wonderful. There are layers and layers to be pulled back and meanings that vary with various interpretations and perspectives. This makes the work exciting and able to be reread many times without losing enjoyment."
~San Fransisco Book Review
"The poet's expressive talents are far ranging, varying in word play and mood."
~ Olivia Boler, Foreword Reviews
---
LITTLE SONGS
---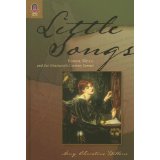 In Little Songs: Women, Silence, and the Nineteenth-Century Sonnet, Amy Christine Billone analyzes the bond between lyric poetry and silence in women's sonnets ranging from the late eighteenth-century works of Charlotte Smith, Helen Maria Williams, and Anna Maria Smallpiece to Victorian texts by Elizabeth Barrett, Christina Rossetti, Isabella Southern, and other, lesser-known female poets. Although scholars acknowledge that women initiated the sonnet revival in England, Little Songs is the only major study of nineteenth-century female sonneteers. Billone argues not that women's sonnets overcame silence in favor of lyrical speech during the nineteenth-century sonnet revival, but rather that women simultaneously posited both muteness and volubility through style and theme. In opposition to criticism that stresses a modern shift from compensatory to non-consolatory poems of mourning, Billone demonstrates how women invented contemporary elegiac poetics a century in advance.   Adding to critical interest in the alliance between silence and literature, this book offers a complex study of the overwhelming impact that silence makes, not only on British women's poetry, but also on the development of modern poetry and intellectual inquiry. Ultimately, Little Songs illustrates how the turn away from the kind of silence that preoccupied nineteenth-century women poets introduced the start of twentieth-century thought.
---
PETER PAN
---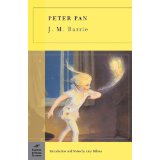 Read an Excerpt
From Amy Billone's Introduction to Peter Pan
Unlike characters in most other children's literature, Peter Pan has achieved mythological status. Even though many people have not read Barrie's novel or play, Peter Pan is now as well known as Cinderella or Sleeping Beauty. Why is Peter Pan such a memorable drama? The story may be so compelling partly because of its attentiveness to reversibility. Childhood and adulthood, birth and death, boys and girls, dreams and waking life all persistently change places in the story. But they change places in such a way that they reinforce rather than dismantle the oppositions that confuse and distress us. Children do become adults; birth leads to death; boys and girls cannot effortlessly change roles; dreams remain distinct from waking life. Time moves ferociously forward. Even though Peter Pan is the story of a boy who never grows older, the narrative proves that everyone else must age. The first sentence of the novel tells us so: "All children, except one, grow up." While the legend tempts us with achingly desirable unions, it is about the difficulty (if not the impossibility) of fusing disparate worlds: life and death, dreams and reality, masculinity and femininity, childhood and adulthood. Through lively comedy, Peter Pan brilliantly masks the underlying sadness that threatens to pull the story apart.